Welcome to this site dedicated to our West Seattle High School class. Here you can learn about upcoming reunion events as well as share information about yourself which you feel may be of interest to our fellow Indians. Follow these buttons to learn more.

WSHS Class of '73 on Facebook

WSHS Alumni on Facebook

The WSHS Alumni Association
On Saturday, August 25, 2018, we held our 45th anniversary reunion. Visit our reunion page to learn more about this very successful practice run for our pending 50th!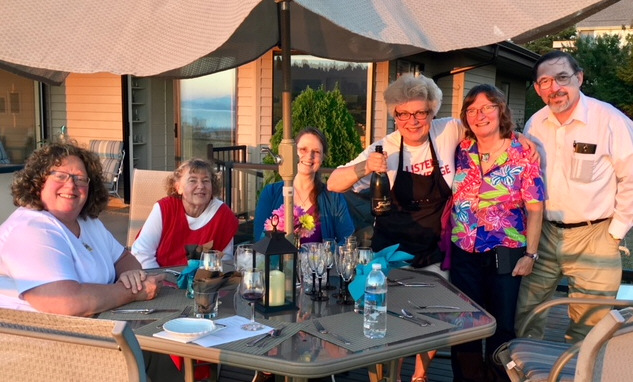 Your reunion committee met at Lisa Bergman's to debrief and celebrate the successful luncheon at Salty's on Alki.

We are looking ahead to our big 50th reunion in 2023. Until then, we'll meet and explore ideas and venues. Our team will grow over the next few years.

Be sure to keep us up to date with your contact information! Email us.
---
The West Seattle High School 2018 all-school reunion was held on Saturday, June 2, 2018, at the school (photos below).
It was great to see so many of our old classmates. Feel free to send a note and/or a photo to add to the class of '73
"We are the Indians" page.
Dick Sleight, webmaster